Satire
'Trump Bridge' Plan Makes Everybody Win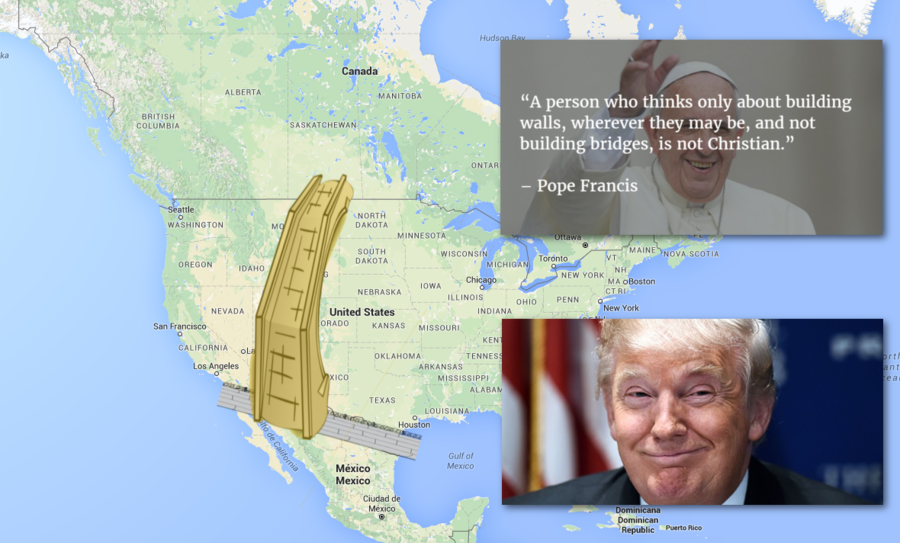 We at Lead Stories propose building The Donald J. Trump Bridge directly linking Mexico and Canada together. Sometimes you have to think outside the box and so we came up with this foolproof plan that only produces winners. We are sure Mr. Trump could get behind the idea too since he likes winning so much. Just check out the awesome list of winners this project would produce:
Donald Trump
If there is one thing The Donald loves it is building big things with his name on it. A tower, a casino, a wall... Why not go for the longest bridge in the world? It would be 'tremendously yuge' and magnificent and it could be literally paved with gold to add that signature Trump branding touch. Who would pay for it? I'm sure Trump could get someone else to cough up the cash. (Our bets are on Canada, they are probably too polite to refuse...)
Pope Francis
Pope Francis has publicly said people who only think of building walls and not of building bridges can't be good Christians. Surely the biggest bridge in the world would qualify? Francis would get full bragging rights for making Trump a true Christian again. Returning lost sheep to the flock is what being a good sheperd is all about...
Canada
After Donald Trump's Super Tuesday wins in several states Google reported a sharp increase in the number of searches for the phrase 'Move to Canada'. A Canadian official even helpfully tweeted a link to the paperwork. So it is pretty clear they like immigrants down there and they are ready to welcome more of them with open arms.
Searches for "Move to Canada" are higher than at any time in Google history #SuperTuesday pic.twitter.com/0KBJPrHdEO

-- GoogleTrends (@GoogleTrends) March 2, 2016
Mexican emigrants
No more risky desert crossings or shady smugglers to deal with. Just a smooth drive along the best bridge in the world, straight to the promised land of free healthcare and job opportunities. And no risk of deportation or politicians calling you 'rapists and murderers'. Who would not like that?
The United States
With all the Mexican labor gone there would be no shortage of jobs in the construction industry. Someone has to put up that bridge and that wall and the maintenance on gold paving is very labor intensive we hear. Jobs, jobs, jobs! Can someone say Trump-recovery? Republicans would be happy because there would be no more Democrats (they would all be in Canada) and the Democrats would feel right at home in a multi-ethnic country with free healthcare and no Republicans.
So let's build the Donald J. Trump bridge today and make everybody a winner! Tweet with #BuildTheBridge if you agree...